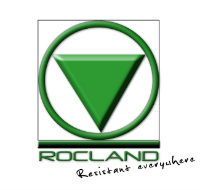 Joint sealants are an important part of protecting joints in concrete floors.  Whether the joint is saw-induced (saw-cut) or a formed construction joint (armoured joint), filling the gap with a sealant helps to support the joint and prevent arris damage.
RCR Flooring Products manufactures and supplies the Rocland brand of joint sealants.  Information on these products can be found here, on the Rocland website. 
Which joint sealants are available?
Rocland offers two types of joint sealants – a polyurethane sealant (soft putty), and a flexible PVC strip.
The putty is highly versatile, and accommodates gap sizes up to 6mm in new-builds and refurbishments. It can be used indoors and outdoors.
The flexible PVC strip is supplied on a roll in a range of sizes.  Because it is a dry product there's no need to allow for curing time, so the floor can quickly be brought into use.  The strip can be changed to a larger width as the joint expands.
Benefits of using a joint sealant
Protects the arrises of exposed saw-cut joints from vehicle impact damage and pedestrian traffic.
Reduces the need for future repairs to joint areas.
Stops debris from entering the joint – particularly important in food manufacturing premises
Stops chemicals from leaching into the ground through the joint.
Can prevent a health & safety trip hazard, such as shoe heels catching in the joint.
Pre-installed sealant
Some of our armoured joints can be supplied with a sealing tape pre-installed.  Speak to our sales team to find out more.
Joint backer rod
When applying a polyurethane sealant it can be helpful to first insert a backer rod into the joint.  This is a length of cylindrical foam which provides a solid base to prevent the sealant dropping down into the joint.  This helps to ensure a consistent depth and a neat application.  Please refer to the Rocland website for details of their Ethafoam product.
You can learn more about joint sealants by reading these helpful articles on the Rocland website.