Eclipse is a tough, hard-working armoured joint for heavy-duty applications.  The high-tensile steel triangular section reinforces the top edge of the joint, giving extra support where vehicle wheels impact – so the joint can withstand heavy and persistent traffic.  The twin full-height divider plates, specially shaped at the dowel point, add to its strength and rigidity.  Galvanised as standard, Eclipse is an attractive, versatile and economical alternative to a traditional-style armoured joint.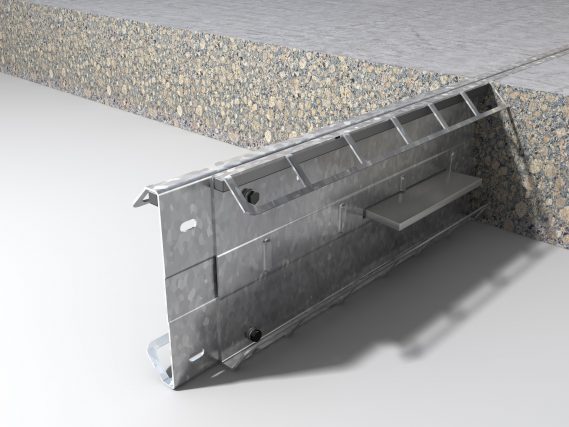 Benefits
Strong, durable joint arris protection, with added reinforcement for trouble-free installation.
Robust design.  Twin full-height divider plates give strength and rigidity, for straighter, truer joints.
Shaped divider plate at the dowel point, for even more rigidity!
Unique grid-cut face (patent pending) securely anchors the joint into the concrete along the whole length.
Can be cut at any point without compromising strength.
Concrete ties at both top and bottom give exceptional anchoring into the concrete and resistance to torsion.
Radiused edges (on the top inside corners) reduce damage to forklift wheels.
The sharp edge on the inside top face of each hole helps ensure a neat finish when trowelling-in.
Compatible with a choice of TD plate dowels.
A choice of straightforward installation methods.  Eclipse is optimised for use with AlphaFix.
Supplied in galvanised steel as standard – a durable finish for internal and external applications.
Supplied in 2.4m lengths as standard.  This makes joints easier to lift, and improves the accuracy of the installation.  When delivered, pallets are more stable and easier to manoeuvre.
Applications
A versatile choice, suitable for use on all floors as an alternative to traditional-style heavy duty armoured joints.
Ideal for internal heavy duty applications, such as distribution centres, general warehousing, retail warehouses, manufacturing, food manufacturing, and industrial premises.
Galvanised steel as standard – suitable for external use.
Ideal for free movement areas, but also suitable for most other areas
Suitable for use with most vehicle types.
Download our specification sheet for full information.
All our products comply with the Construction Products Regulation (Regulation (EU) No. 305/2011), and hold appropriate CE marking.