Permaban Wave combines a narrow top plate and a distinctive triple curve design, for impact-free joint protection that's easy to install.  Its three sine wave shapes mean there are no straight edges, so materials handling equipment can flow smoothly across the joint in any direction.  The extension plate means installers can easily choose the correct joint height on site and use any excess stock on the next job.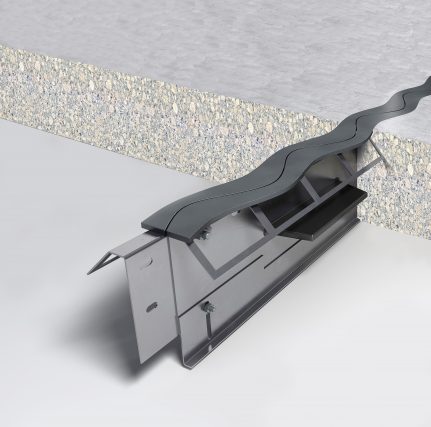 Benefits
Triple wave shape prevents impact damage at the central arris and the two edges of the plate.
Can be approached from any angle, even 90°, without causing impact.  Suitable for directional traffic situations.
Helps reduce noise and vibration impact on forklift drivers*.
Allows flexibility in future building use.
For slabs depths from 150mm to 200mm, an extension plate enables easy height adjustment on site (fixed height joints available to special order).
Narrow top plate aids stability and allows an accurate joint level to be set easily.
Continuous concrete ties, set down from the surface, ensure secure anchoring.
Narrow top plate enables good concrete placement and compaction.
Gentle wave shape aids trowel finishing.
Compatible with TD plate dowels.
Joint design resists significant ingress of debris into the joint.
Supplied in mild steel as standard. Galvanised finish and stainless steel top plate options are available to special order.
Supplied in 2.4m lengths.
Applications
Suitable for a wide range of applications.  Particularly suitable for directional traffic situations (such as transfer and racking aisles in distribution centres) where materials handling vehicles pass over the joint at 90°.
Suitable for use internally.  If the product is to be used in places subject to water ingress, please request galvanised finish.
Suitable for use with pallet trucks and front and lateral stacker trucks.
Download our specification sheet (right) for full details.

* Specifying Permaban Wave for new builds enables employers to eliminate joint impact, one of the major causes of noise and whole body vibration that MHE operators are subjected to. This can greatly assist in compliance to Control of Noise at Work Regulations 2005 under the Noise at Work Directive 2003/10/EC and Control of Vibration at Work Regulations 2005 under the European Physical Agents (Vibration) Directive (2002/44/EC), in addition to maintaining MHE speeds and reducing back injuries to operators.
All our products comply with the Construction Products Regulation (Regulation (EU) No. 305/2011), and hold appropriate CE marking.