Named for the C-shaped profile of the stainless steel top strip, AlphaJoint CSS has radiused internal corners to help vehicles pass over the joint with minimal impact.  With extra concrete ties incorporated into the divider plate, AlphaJoint CSS is four times stronger than its Classic CSS predecessor.
Our AlphaJoint CSS is resistant to chemicals, and maintaining its smart appearance under a stringent cleaning regime, CSS is ideal for retail outlets and for food manufacturing units, where hygiene is paramount.  It's also suitable for doorway protection – loading bays, for example.

Benefits
Extra strength and rigidity, due to additional grid-cut concrete ties incorporated into the divider plate.
Shear studs securely anchor the joint into the slab along its length.
Resistant to twisting caused by the impact of wheeled traffic.
Efficient load transfer between adjacent concrete slabs with plate dowels.
Allows controlled horizontal slab movement, preventing random cracking.
Eliminate vertical movement between slabs during concrete contraction, for a level floor surface.
Supplied as one unit for easy handling and installation – the two sides are connected with frangible rivets which separate naturally after installation.
Also available with Permaflex 'T' tape system pre-installed as special order – contact our sales team for more information.
Applications for AlphaJoint CSS
Suitable for internal applications only – particularly retail and food manufacturing.
Suitable for all areas of use within a building.
Suitable for use with most vehicle types.
Suitable for larger joint openings, up to 30mm.
Important note: AlphaJoint CSS below 130mm height
For heights of less than 130mm, we will supply a "Classic CSS" version of this product, without the continuous concrete ties (please see picture, below). At this height, the rigidity of the product during installation will not be affected. Full technical details for this variant can be found on the AlphaJoint Classic CSS specification sheet, in our Downloads section.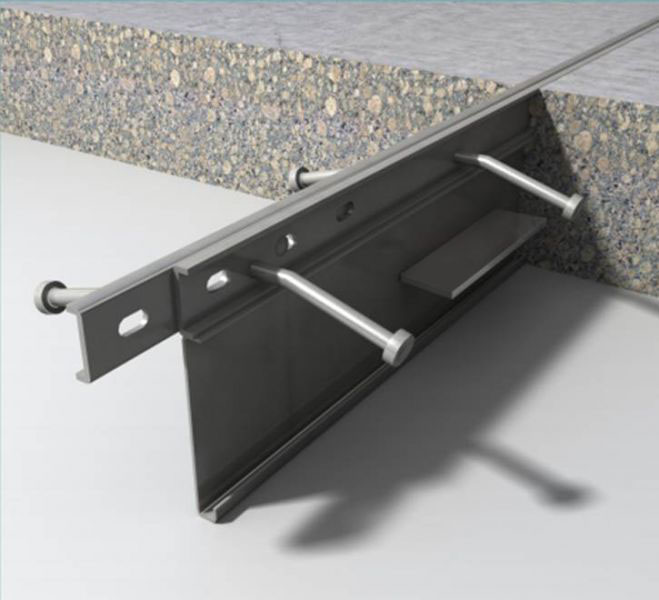 AlphaJoint CSS below 130mm height
All our products comply with the Construction Products Regulation (Regulation (EU) No. 305/2011), and hold appropriate CE marking.