Signature AR (arris repair)
Permaban Signature AR is an arris 'repair and upgrade' system for damaged construction joints in concrete floors.
The damaged concrete around the construction joint is cut away, and Signature AR is installed in its place, using professional-grade mortar and concrete bonding agents manufactured by RCR Flooring Products.
The distinctive Signature shape allows vehicles to cross in any direction, causing no impact and no damage to the joint or vehicle.  This means Signature AR provides a once-and-for-all repair, and is a vast improvement on the original straight joint.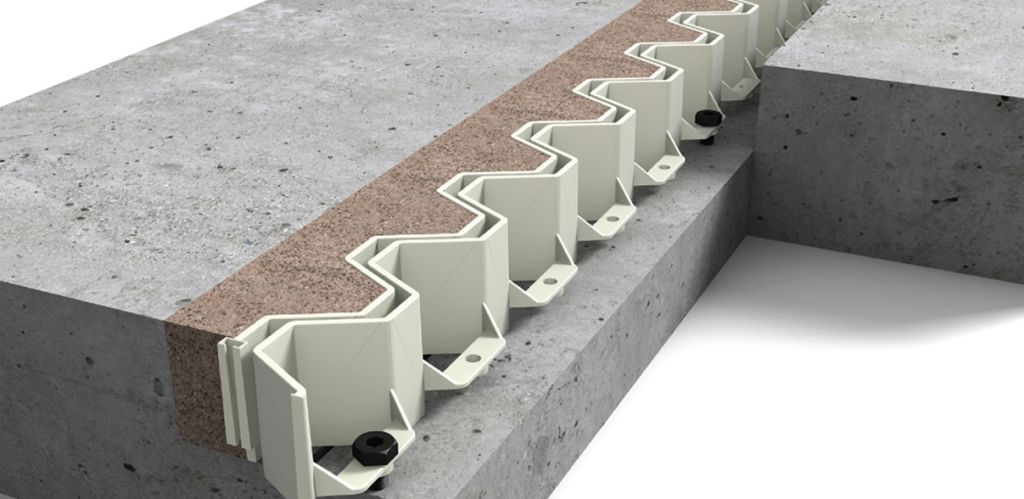 Benefits
Permanent, professional joint arris repair
Half-hexagon shape prevents impact damage from vehicle wheels crossing the joint
Helps reduce noice and vibration impact on forklift drivers*
No need for future repairs – long-term cost savings
No maintenance – fit and forget
No need for a joint sealant (unless to prevent leachate)
Can be approached from any angle, even 90°, so suitable for directional traffic situations.
Allows flexibility in future building use.
Manufactured from strong glass reinforced nylon (GRN), for a robust repair that's lightweight and cost-effective
Supplied in 1074 mm lengths.  Can be cut down, or lengths clipped together for longer repairs.
Stable in all temperatures
UV stable; resistant to rusting; non-conductile
Can be cut at any point without compromising strength – use any length as required.
Material can be recycled at end of its life
Applications
Internal and external concrete joint arris repairs, and across doorways
Ideal for defined movement areas (transfer and racking aisles)
Suitable for freezer stores and anti-static environments (eg, electronics manufacturing)
Suitable for use with most vehicle types.
Important Note
To ensure high-quality, durable results, Signature AR is only available for installation by approved installers.  Please contact us for details.
* Specifying Signature for new builds and upgrading existing floors with Signature AR enables employers to eliminate joint impact, one of the major causes of noise and whole body vibration that MHE operators are subjected to. This can greatly assist in compliance to Control of Noise at Work Regulations 2005 under the Noise at Work Directive 2003/10/EC and Control of Vibration at Work Regulations 2005 under the European Physical Agents (Vibration) Directive (2002/44/EC), in addition to maintaining MHE speeds and reducing back injuries to operators.
All our products comply with the Construction Products Regulation (Regulation (EU) No. 305/2011), and hold appropriate CE marking.