Signature AR: KPM comes back for more!
Kawasaki was so impressed when it trialled RCR's Permaban Signature AR joint repair system in 2015 that when a high traffic aisle in its Plymouth factory needed a permanent repair solution, Signature AR was the obvious first choice. 
A global entity, Kawasaki Precision Machinery (KPM) was established in 1968. At its UK base in Plymouth it designs and manufactures hydraulic components and systems for industrial, construction and marine markets throughout Europe, the Middle East and Africa. The Plymouth factory also manufactures and designs the world–famous Staffa radial piston motor, well-regarded in marine and industrial applications.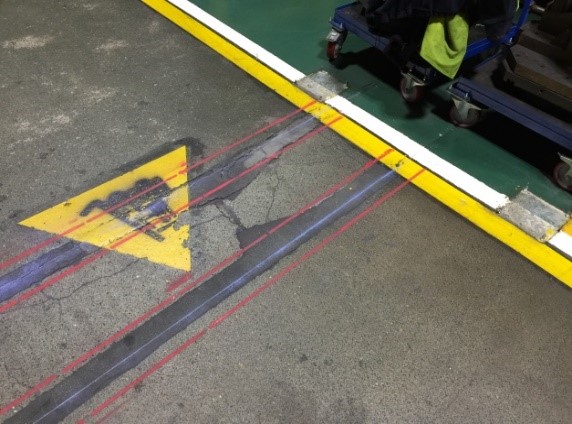 Damaged forklift aisle
The damaged joint was in an existing aisle with heavy forklift traffic. As well as the standard repair area, a second area on top of the beam foundation with two joints close together required reconstruction and the floor between the joints had cracked and eroded.  
The main KPM factory was built in the 1980s and, although a previous repair to the joint had been carried out, the area had degraded through use – not an uncommon problem when joints are repaired with mortar.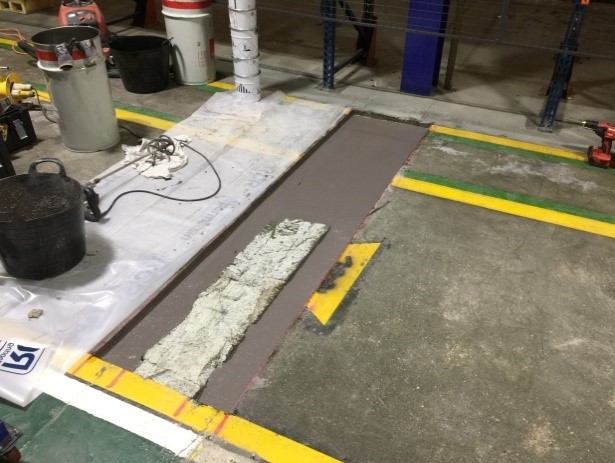 Permaban Signature AR: the permanent joint repair
Both RCR Flooring Products and KPM are active members of the Plymouth Manufacturers' Group (PMG) network, a thriving association that enables manufacturers in South Devon to collaborate and share best practice. Back in 2015, when RCR Flooring Products offered fellow PMG members a chance to trial its new Permaban Signature AR (arris repair) joint repair system, KPM jumped at the opportunity and was so impressed it pledged to use the system in future to repair other joints in its factory. 
Signature AR is designed to replace damaged saw-cut joints, or sections of the floor where a straight armoured joint and the surrounding concrete have become damaged. It provides a permanent, professional repair – saving building owners and operators the considerable cost and disruption of future floor repairs. 

Based on Permaban Signature
Signature AR is based on RCR Flooring Products' highly successful Permaban Signature ARmoured joint, used in new warehouse and industrial floors worldwide. With its distinctive half-hexagonal design, materials handling vehicles can pass smoothly across a Signature joint in the floor, causing no impact and no damage – even when vehicles cross the joint at 90⁰. This saves significant repair costs to both the floor and vehicles, for the lifetime of the building.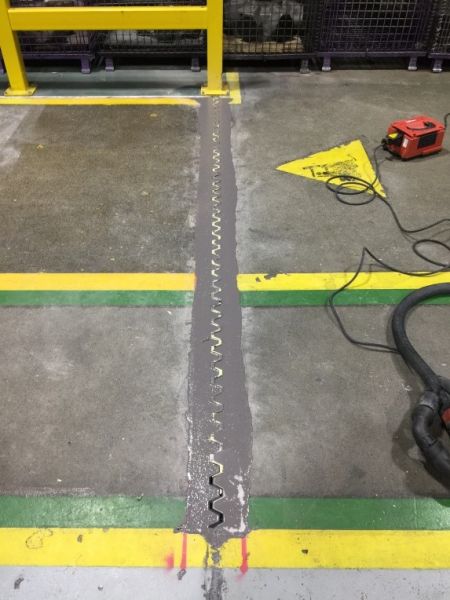 Complete repair system
The Permaban Signature AR system incorporates all the products needed for a professional joint repair –a reduced-height length of Signature, plus a concrete bonding agent, resin repair mortar and resin screed finish from fellow RCR brands Rinol and Rocland.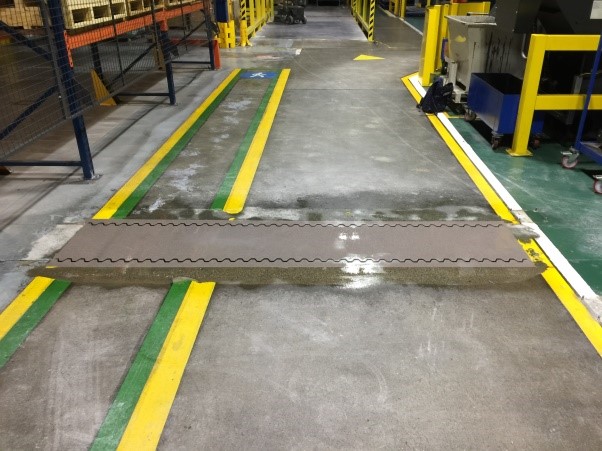 The repair 
process
The damaged area was cut, which prompted other weak areas of the floor and the beam foundation to crack and break away. This meant that as well as the 3.17m standard repair another area consisting of two runs of 2.9m needed fixing with an additional break-out repair in between. 
Once the area was broken up, a primer level was applied with paint brushes before a leveller, made of resin and hardener combined with filler at a ratio of 1:5, was poured and left to cure for three hours. 
The Signature AR joint was cut to length and de-bonding tape applied. Two anchor bolts – one at either end on opposite sides to ensure a good fit – were drilled and screwed in below the surface of the floor so there would be no visible evidence of anchoring once the floor had been finished. A top level of resin was then poured slightly above ground level and left overnight. 
The following day, the resin and AR joint were ground to remove the top layer. Once the joints had been ground level on both sides, the surface was polished to leave it smooth. After being ground, the joint was cleaned and swept before the tape was removed from the AR joint. The area was cleaned up by vacuuming between the AR joint and a sealant was sprayed on.  After this, the channel was filled with repair mortar; before the repair area was ground so that the finish was completely seamless with the surrounding floor. 
"We're very pleased with the floor repair using Permaban Signature AR.  Forklifts can cross the joint easily; the floor looks professional and we know it will stay that way." 
Ray Wilson, Maintenance Manager, Kawasaki Precision Machinery